4 Young Men Push Elderly Woman's Broken Scooter Home in Storm: 'Be a Hero for Someone'
'They were not complaining but grateful that she was safe … they are modern heroes.'
Caught under a black sky and pouring rain, laden with groceries and a dysfunctional scooter, one elderly Florida woman needed an everyday hero. Instead of one, she got four.
In a world where it may seem that genuine kindness and heroism are among the quality goods suffering from supply chain problems, these unexpected heroes were hanging out at a 7-Eleven in Seminole County, Florida. The four young men, seasonal workers doing a construction project at Rebounderz, were on their break when they saw the woman in need.
While others may have coveted precious break time, these men left what they were doing and pushed the septuagenarian woman, her scooter, and her groceries uphill to her home, while shielding her from the pouring rain with an umbrella.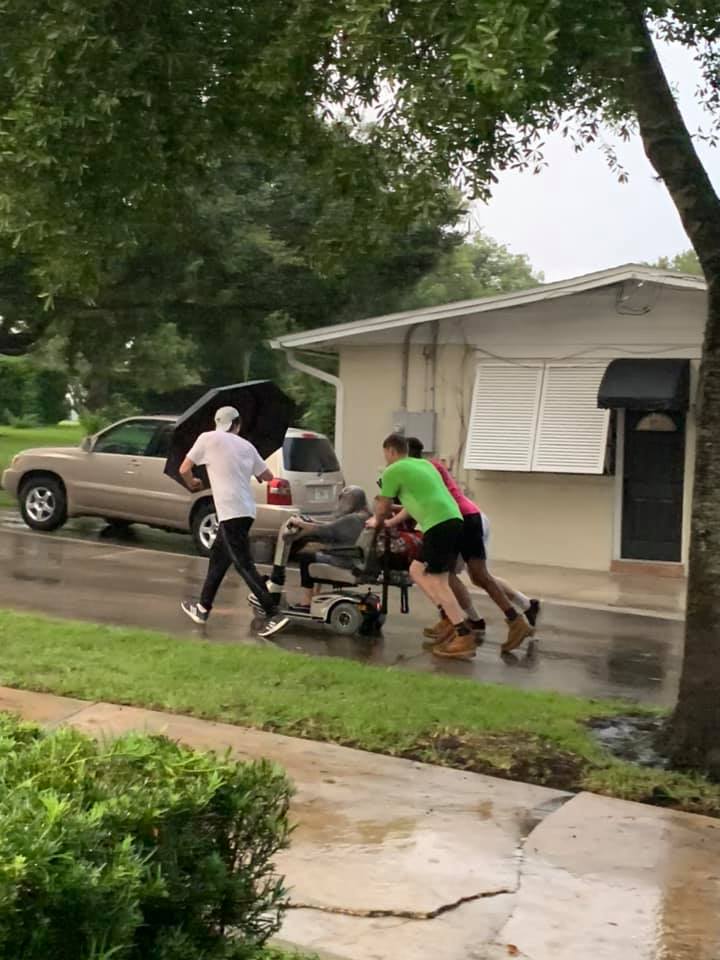 Katty Castro, 45, who has lived at the Florida Living Retirement Community for the last eight years, witnessed the kind act from her kitchen window and left her dishes to photograph the scene.
"I was moved by their effort," she told The Epoch Times. "It was at least one-half mile from where they found her. I saw them toward the end but their smiles and laughs were contagious. They were not complaining but grateful that she was safe. To me, they are modern heroes."
Stepping out of one's self, away from what is convenient and comfortable for the service of another person, takes selflessness. And selflessness is the stuff of true heroes who give of themselves for the good of others. The four men, joyfully pushing the woman and her scooter up the street that day, exhibited selflessness.
Castro said the elderly woman, who wishes to remain anonymous, is "very grateful" to the young men for their selfless help. "After I showed her the pictures, she was moved by their compassion. She called them 'my angels,'" Castro said.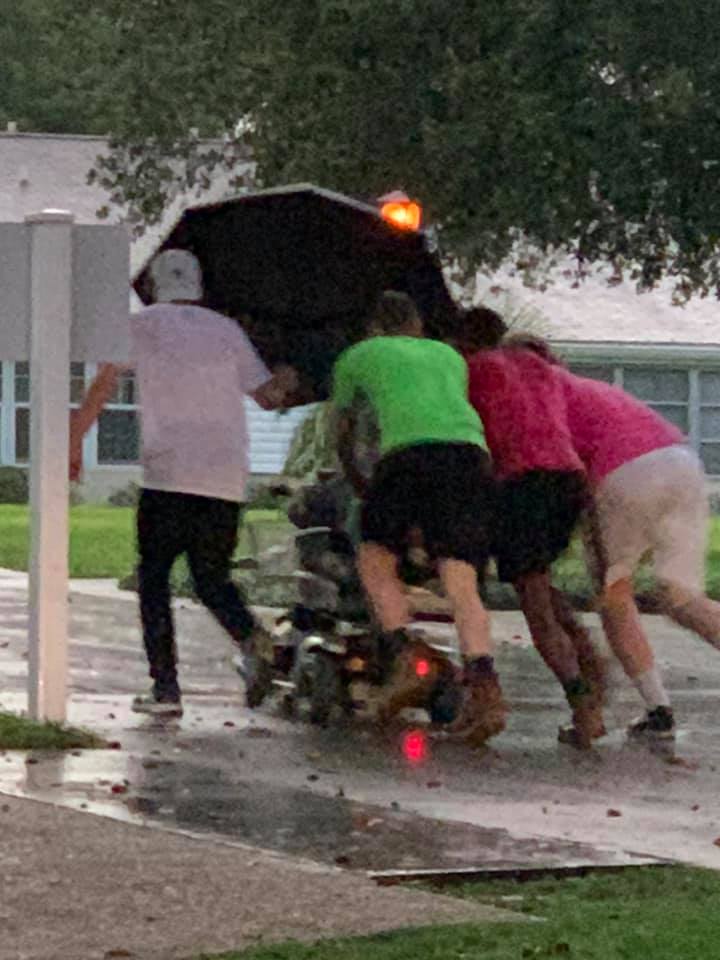 Castro, who's a mom to two teenagers and has worked in recruitment and public relations for the last 3 years within the community, says heroism and small acts of kindness need not be in short supply.
"I believe anyone can make a difference and be a hero for someone else," she said. "You can start with your neighbors, community, and city." Not every heroic act will garner thanks. Many go unnoticed. But these deeds are no less great in their invisibility. Yet, humble kindness and virtuous heroism that are observed and appreciated have a wonderful way of breeding more kindness and heroism.
Castro did not leave the compassionate deed of those men unnoticed. She went out of her way to express gratitude.
When the four men were returning from helping the elderly woman on her scooter, Castro took the time to tell the men how she appreciated what they did for the woman, who lived in her community, even though the woman was a complete stranger to them. She posted pictures of their gallant effort and shared them on social media.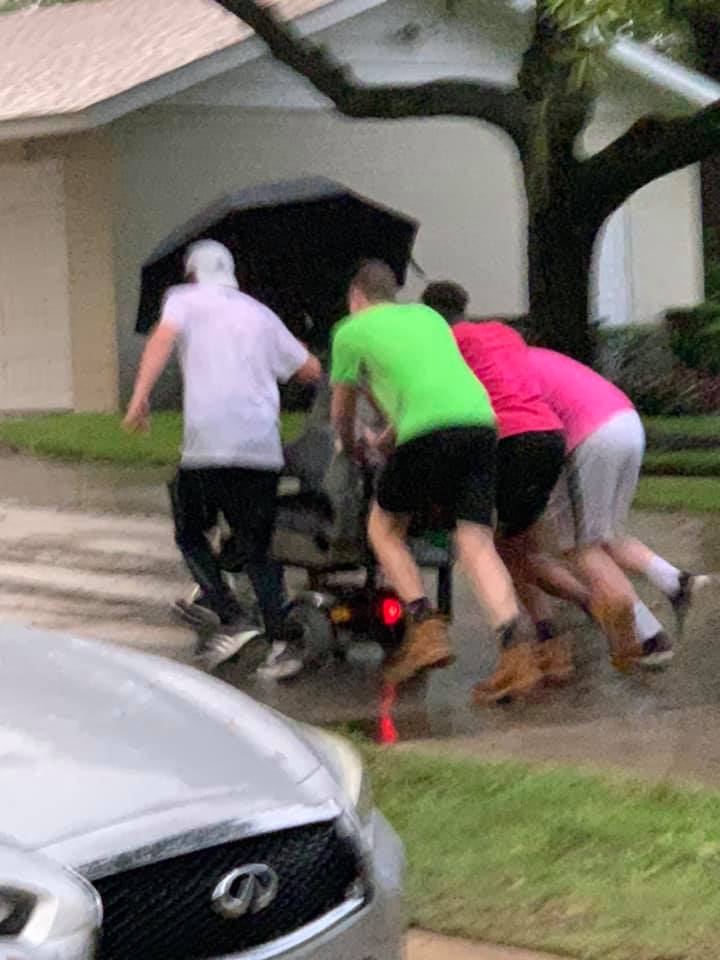 "I saw their effort and kindness beyond measure. So I wanted to say thanks," she said. "I believe that gratefulness is a necessity for our world today.
"I wanted to recognize their effort. I believe anyone can make a difference and be a hero for someone else. In times of hate, fights, and political rivalry, I want to show there is still kindness and gratitude around us."
Perhaps Castro's acknowledgment of this small, yet heroic, act of kindness performed by four men in Florida will help to inspire more heroic acts. Perhaps their action and her gratitude will lead to something catching: a "pandemic" of kindness and selfless heroism in our neighborhoods, classrooms, and streets. We could only hope for a pandemic of that sort.